Broken Wheel Cafe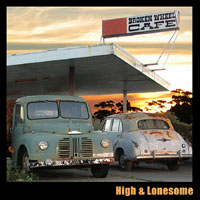 High & Lonesome's debut CD, Broken Wheel Cafe, was recorded at the Broken Wheel Recording Studio in Lorne (Chris' spare room!) using a PC, Cubase SX, various microphones and audio plugins. It was mastered by Adam Dempsey at Dex Audio in Melbourne and released in September 2003.
Reviews
"A very listenable CD with fine musicianship from all players shining through. The songs are poignant and well-crafted with Highway being my favourite. With fine fiddle harmonies behind much of the CD and the addition of great double bass from Sandy, this CD is sure to please lovers of folk/country/bluegrass music."
Jamie McKinnon, The Bluey (Geelong Folk Club)
"High & Lonesome's long awaited debut CD Broken Wheel Cafe . features seven original tracks, two arrangements (Wayfaring Stranger and a haunting musical rendition of Waltzing Matilda, called Matilda's Lament) and three covers - Tom Paxton's Last Thing On My Mind, Steve Earle's Sometimes She Forgets, and David Bromberg's Jugband Song. This easy listening album lies somewhere between Folk, Country and Bluegrass, and pays homage to some of the musical influences the band members have come under. The excellent musicianship, subtle harmonies and touching lyrics are a feature of the menu at the Broken Wheel Cafe."
Kevin McCarthy, Blarney Bulletin
Woodshed Session
The Woodshed Session was a live recording around a stereo microphone for use as an audition demo for festival applications. One day we will record a live in the studio multitrack album.