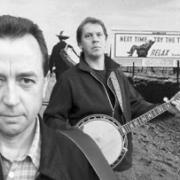 Lying somewhere between Folk, Country and Bluegrass, High & Lonesome have a distinct rootsy feel which pays homage to some of the influences the band members have come under over the years, with echoes of many country and bluegrass heroes.
"I grew up with a passion for popular music and rock and roll, but when I first heard the acoustic guitar styles of Bob Dylan, Neil Young, James Taylor, Crosby Still and Nash, I knew that was the kind of music I wanted to play," says Chris of his musical inspirations. "Ever since that time, I've explored the many and diverse origins and manifestations of what I broadly call folk music - music written and sung by ordinary people about the joys and sorrows of ordinary people."
Chris found a musical soul mate in Mark Wardle. They met in the mid 90s, and apart from being the same age discovered they shared a passion for Americana styled roots music and its historical origins in traditional Celtic folk music and blues and subsequent evolution into country, bluegrass and rock. They share a love of the 5-string banjo and the dobro slide guitar and a growing repertoire of banjo jokes!
Chris and Mark have played together as a duo around Geelong and the Surfcoast for the last five years including a couple of years with Ade Kelly's Tartan Paddy, and have been honoured with the support of local talents such as Geoff Sinnbeck, Matiss Schubert, Sandy Brady, Adam Burke, Reinhart Russ, Phil Smurthewaite and Rob Gador.
One of the challenges facing a genre-defying band like High & Lonesome is finding sympathetic venues. When we play folk gigs we come across as bit 'country' and when we play country gigs we are regarded as a bit 'folky' - so we call it Folk'n Good Country!
Since about 2006 High & Lonesome has evolved into a 5-6 piece acoustic band specialising in performing around a single large condensor microphone like the old radio shows of the '40s. Depending on the needs of the venue, High & Lonesome play from a duo to a sextet and all plugged in when required.
High & Lonesome are regular performers at festivals and community events such as Maldon Folk Festival, The Guildford Banjo Jamboree, Port Fairy Folk Festival, Birregurra Street Festival, as well as numerous bars, cafes, pubs, open mics, and special functions such as birthday parties, weddings and family reunions. The full line up consists of:
Chris Ellis

Mark Wardle

Geoff Sinnbeck

Reinhart Russ

Matiss Schubert

Adam Burke

Vocals, guitar, dobro, harmonica

Vocals, banjo, mandolin, guitar

Vocals, mandolin, guitar, fiddle

Double bass

Fiddle

Drums